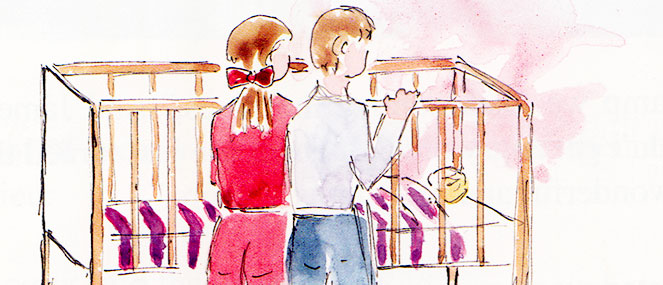 Overview
Used in educational and cultural projects worldwide, Carolyn Askar's children's stories have been reprinted by the UN and the BBC. They promote multicultural education, socio/spiritual development and environmental awareness.
---
---
Terracotta Press, 1999, A4 glossy paperback, colour illustrations by Myrna Sayers, suitable for ages 7–12 years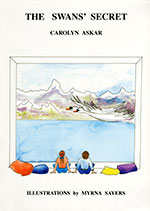 In this five-part fantasy series set in the north of Scotland, 10-year-old twins James and Anna learn to communicate with two swans. Through these creatures, the children discover an unusual and powerful treasure that leads to a series of adventures. Inspired by a visit to Findhorn, Morayshire, The Swans' Secret fires children's imaginations through dreamlike stories while addressing important themes such as cooperation and sharing, healthy relationships, life values, the environment and multicultural/racial harmony.
Part 2 features the well-known story of "The Rainbow People". The book includes 28 delightful color illustrations by Myrna Sayers.
The Swans' Secret has been broadcast on international television channels in Spain, and plans are underway for an American TV broadcast. Published in many mainstream anthologies, the story of "The Rainbow People" (used by the UN worldwide in their teaching programmes) has also been performed at Westminster Abbey; Central Hall, Westminster; and The Glasgow Arts Festival; in schools throughout the UK, Canada and the USA; and at the first multicultural festival of South Africa.
These children's stories are recommended by Teachers Resource Centres, Diocesan School Boards, Education Committees and Organizations throughout the UK and abroad.
Order from Amazon
Responses
The Guide Association: "It's a wonderful book. Please send more as soon as possible, we've already sold out".
Natural Parent Magazine: "… an enchanting adventure book … includes the captivating story of 'The Rainbow People'".
Teacher's report (Gladstone Park Primary, London): "The class found the story exciting, well-written and right for their age group (year 4). It greatly influenced their vocabulary—they used sophisticated language to retell the story".
Quote from 12-year-olds: "It's fun—and makes you think".
Videos
Performances of The Swans' Secret (5 episodes), Dream-Flight, Mc.Cloud, The Picnic and Justy in the Jungle were videoed and broadcast on international Spanish TV stations RTV 340 Mijas and Canal Costa del Sol.
Excerpt
The swans hung in the air for a long moment outside the window and the children felt as though they were being sucked into their snowy-white, feathery space. And, what's more, they seemed to be receiving a message from the huge birds. It was all very weird, like a dream.
The moment was over too soon. James and Anna found themselves still sitting on the floor, but they felt as though their hair had been brushed the wrong way, and there was a strong fluttery feeling in their stomachs. Neither of them spoke for a moment, they just sat and stared, not daring to believe what they had felt.
They left the quiet room and scurried back to their own room before they spoke about it.
"What on earth happened?" asked James, still trembling with shock.
"I don't know, but I felt as though they were trying to tell me something," replied Anna.
"Me too!" cried James. "It was really weird. It felt like they were inside my head—or I was inside theirs—or something."
"We have to find out what happened," said Anna, very determinedly.
© Reprinted by permission. All rights reserved.
The Rainbow People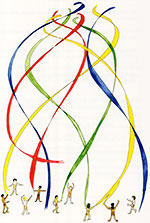 One of the short stories in The Swans' Secret, "The Rainbow People" has also been published by the UN in their Primary School Kits (UK and USA) as well as in anthologies by Simon & Schuster, Reed Education, Macdonald, Trentham Books, The Guide Association, Partners in Learning, Christian Aid, Green Teacher, Heinemann and Molo Songololo (South Africa). The story has been performed worldwide at festivals, with venues ranging from Central Hall Westminster (The Methodist Church) to Westminster Abbey (The Guide Association) to Glasgow Arts Festival to Johannesburg, South Africa, for the opening of the first non-Apartheid festival. It has also been broadcast on Dutch and Spanish TV.
---
Other Children's Stories
Mc.Cloud
An intriguing true story about a cat highlighting the need to keep an open mind about coincidences and mysteries. (7–12 years)
The Picnic
Based on a true story of two young girls in 1909 London. An amusing tale about vanity, insecurity and jealousy jeopardizing a friendship. (8–13 years)
Good Neighbours
A fun cautionary tale in rhyming couplets. Highlighting the dangers of trying to hide the truth, the story involves a dog, a rabbit and some human subterfuge. (8–13 years)
Dream-Flight
A butterfly helps a group of children realize the power of their imaginations. (5–9 years)
Justy in the Jungle
A fact-filled family safari through the rain forest in Central America, with an eccentric British aunt in tow. (7–12 years)
---
Order Books
Please contact Carolyn Askar to order copies of her books. You can also order The Swans' Secret and Carolyn's Poetry books at Amazon UK.
Dream-Flight, The Picnic, Mc.Cloud, Good Neighbours and Justy in the Jungle are available as booklets or electronically. (© All rights reserved.) Contact Carolyn Askar to request copies or get more information.